The app development ecosystem is growing at an accelerating pace. Today, it is one of the most prominent industries with an average release of 6140 apps daily on Google Play Store and 5,092 apps on the Apple App Store.
Machine learning, Artificial intelligence and the Internet of things are some of the major innovations that are incorporated in many of the apps today. Virtual assistant is one such advancement. Whatsapp, Instagram and Tik Tok apps are topping in the list of leading apps with the highest number of downloads.
Netflix and Amazon Prime rule the entertainment apps and Candy Crush rule the gaming apps.
Mobile applications have modified human life schematically. Exceptional UIs and quick navigation through the apps has become a trademark.
The number of mobile phone users is expected to cross the 5 billion mark by the end of the year 2019. It will automatically bring an exponential increase in the app downloads as well. In this context, it gets more valuable to understand about the best app development software solutions prevailing in the market along with the current and future app development trends.
This article includes a detailed review of a wide range of free and open source app development software solutions to help you choose the best software to build an app of your choice.
What are the different types of apps and app development platforms?
The app world comprises of a variety of apps. Let us check each of them in detail.
1. Native Apps: Native apps are dedicated to a specific mobile platform where particular technologies and programming languages are used. They can be classified into further three categories:
a. iOS apps work on Xcode and based on Objective-C or Swift.<br
b. Android works on Android Studio and based on Java and XML
c. Windows Phone based on .NET, C#, HTML5, and CSS3 and work on Visual Studio
2. Hybrid Apps: Hybrid apps combine the elements of both the native as well as web applications. They are majorly based on today's most promising technologies such as Xamarin, Ionic, React Native, Angular Mobile, Sencha Touch, etc.
3. Web Apps: Web apps behave in a pattern similar to native apps and are a client-server computer program. They need a browser to run and are usually written in CSS, JavaScript or HTML5. Webmail, online auction and online retail sales are some commonly known web applications.
Top Categories of Apps
As of the 1st quarter of the year 2019 Statista reports, Android users can choose between 2.1 million apps available in the GooglePlay Store in 33 categories. Whereas, iOS users can choose between 1.8 million iOS apps available in 24 app categories in the Apple App Store.
Have a look at the image below that shows the top seven app categories that is currently securing more than 3% of user-engagement.
App Development Software – To Create Free and Paid Apps
"There is always a great idea behind a great app."
The app building software industry is robust and varied. At present, it offers an influx of web and mobile app development software programs with the comfortable drag-and-drop facility, 1000+ design templates and style facility, and many other powerful features.
It lets busy entrepreneurs and small-medium-large business owners who are wearing multiple hats, to create responsive and custom-branded mobile apps. Even startup businesses have started utilizing app building solutions to remain more connected to their customers.
A recent study indicated that in the United States of America, people usually spend an average of 87% of their daily time checking out their mobile phones. They are more inclined to shop online than to visit stores due to easy and secure online shopping facility. Similarly, gaming, ordering food and even booking tours has become quite simple and interesting through mobile applications.
Steps that goes in developing an App
The steps given below will help you go through the process of developing an app.
Pick an app idea.
Define the core functionalities that you want in the app, i.e., either it is for real estate, hotel or travel.
Create a rough sketch of your app.
Plan the UI flow.
Design the database.
Plant the front-end with UX Wireframes.
Design UI.
Research for programming solution.
Build the app.
Test and debugging the app.
App launch.
Free open source mobile app builder platforms enable you to create apps easily, efficiently and cost-effectively. They give you immense opportunity to customize your app and add the desired features effortlessly.
You have to pay attention to this design-led-engineering process if you are new to the app building arena;
Deeply research your market.
Define what your target audience and the elevator pitch are.
Choose the type of app for your business: native, hybrid or web app.
Check your budget.
Develop your marketing strategy and pre-launch buzz for the app.
Plan for the app store optimization.
Know about your resources.
Ensure security measures.
Application Development Software Market
The Global Application Development Market is likely to touch 11.69 billion by the year 2023. More and more enterprises and developers are taking complete advantage of the app development software solutions.
These platforms provide a wide range of features, such as auto-scaling orchestrators, load balancers, In-Memory Data Grids (IMDGs), and automated deployment tools.
This market is obvious to grow further, as the open source communities and vendors offer reliable, innovative, user-friendly and specialized platforms to support the modern as well as real-time application requirements.
What are the best app development software solutions?
Before you reach towards finding the best app development software programs ruling the industry, here are the types of tools you can get benefitted of;
Cross-platform app development tools
iOS app development tools
App development frameworks
Mobile analytics tools
Advertising tools
AR (Augmented Reality) tools
AI (Artificial Intelligence) tools
Mobile payment tools
Push notification tools
Game engines
You can check some of the best cross-platform, open source and free app development software programs given below.
How to pick an app development software Solution?
Every app development software program has its uniqueness. To understand it better and to pick the one that fits you, you need to do a bit of homework. Take tips from the following points;
Application Privacy and Security: Not all business apps, but some specific applications need unique security and privacy options. If you find any compliance issues related to your business, discuss with the representative of your potential app creator.
Reseller Options: All apps involving DIY creation or third-party development options do not offer reseller facility. So, your creation service should have a reseller option if you have chosen them for either designing a gaming app or a white label app.
Push Notifications: Push notifications keeps you engaged with the customers and notify them about your firm's all promotional, sales events, new products and services arriving in the market. Majority of app creation services allow for push notifications.
Loyalty Programs or Customer Discounts: Many times, customers are offered new client discounts and loyalty programs by their product-driven businesses. Majority of app creation services also let these programs integrated into your app. Hence, it becomes easier to track the involvement of customers in the loyalty programs and more comfortable for customers as well to get the benefit of those programs.
Instant Messaging Capabilities: Not all companies provide instant messaging capabilities to their customers. So, if it is a vital feature for your business, then try finding a company or developer that can offer you the option of instant messaging.
Geo-targeting: If your business is located at multiple locations or you have customers across different regions, then geo-targeting can become a valuable feature. It lets you communicate with your clients based on their site and tailor your message quickly to different segments.
Social Media Integration: Most app creators integrate your app to the majority of social media platforms such as Facebook and Instagram. It helps potential customers to download your app and get the required marketing material. This feature will be helpful for your business to connect with your followers and market your offerings.
Third-Party App Integration: Many apps created for private business utility need further integration with proprietary apps and business-focused apps. Hence, if you are going to have an app for internal business requirements, make sure that it offers integration facility in the future. Or else, it should let you get Google Maps or other Google services in your original app.
Analytics and Reporting: Most app development software platforms offer analytics and reporting services. These reports will help you know about your customer base and reach them more effectively. If analytics is imperative for your business app, make sure about the type of reports included for the subscription fee taken.
Admin Controls: Internal employee applications vitally need administrative controls. You should know the procedure to access admin controls and the facilities available. It is always ideal to choose for permission-based access control.
Customer Service: Before choosing app development software, you should understand the level of customer service offered by the provider. Some of the best companies offer 24/7 chat, email, and phone support services.
So, now you know how to pick the best app development software solution that meets your requirement. Before you go through free and open source app development software, we would suggest you to consider one of the best app development software like Swing2App as given below.
Swing2App is one of the best app development software that allows you to create different innovative apps and solves all the aspects of push and membership management.

It is Korea's largest app creation service that enables you to produce apps, test it, rectify bugs, and even download APK quickly and easily without coding skills or programming knowledge.
It even enables you to launch your apps on App Store and Google Play, verify its usage, and also promote apps that help you grab the attention of your audience and grow your business.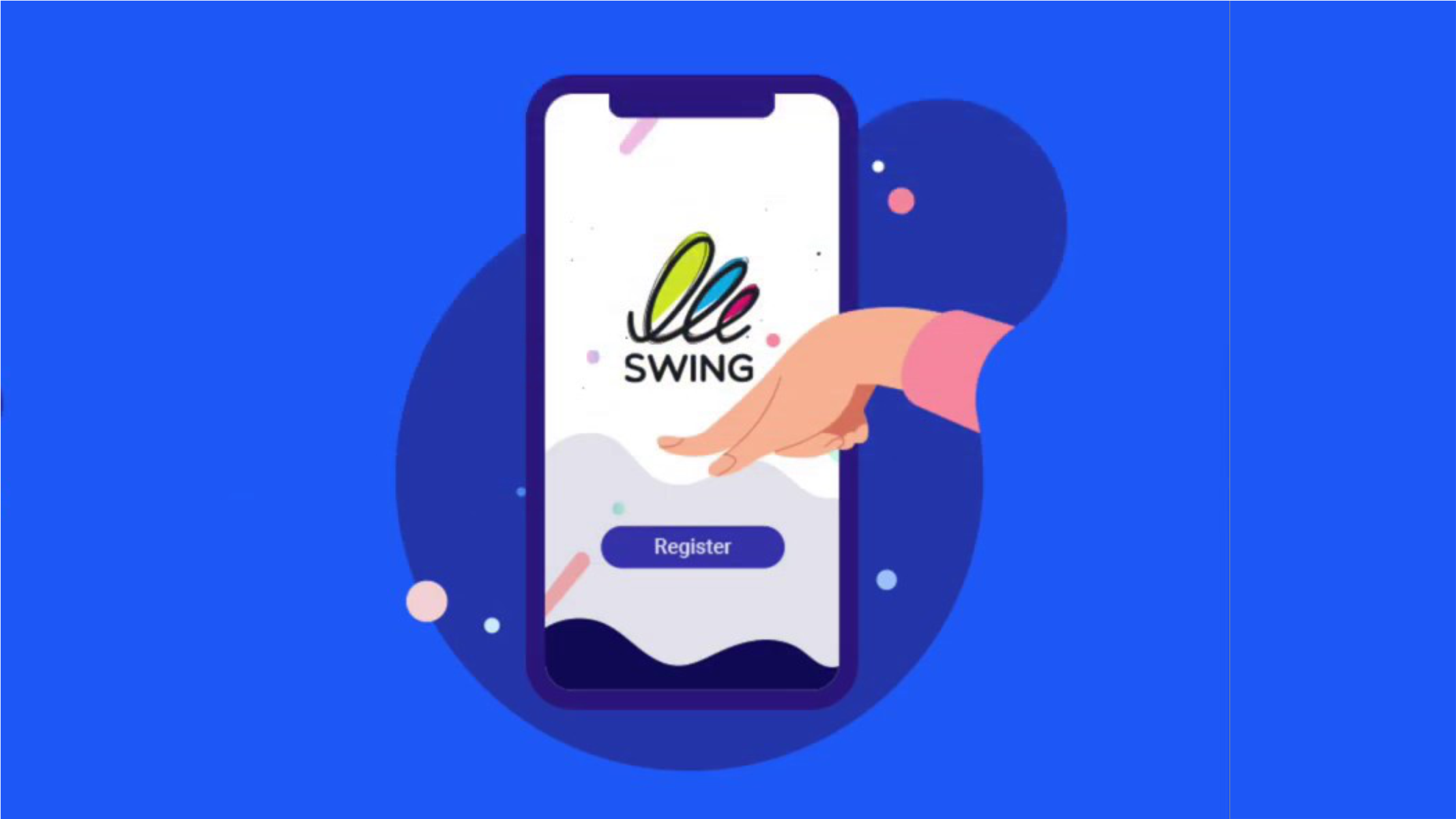 Key Features
UI styles and templates available to create professional-looking apps
Includes high-end security features that allow you to safeguard the information about your app users
Allows you to add/edit content in your app on a real-time basis without coding
Supports Android Play Store, and the iPhone App Store, allowing you to publish your app easily
Includes powerful application management tools for operating the app
Provides push and membership management features allowing you to have full control over the functionality of your app
Looking for free options? Below-mentioned are some of the best free and open source app development software solutions with comparison table helping you to make the right decision.

The Comparison Table of the best 8 free and open source App Development Software Solutions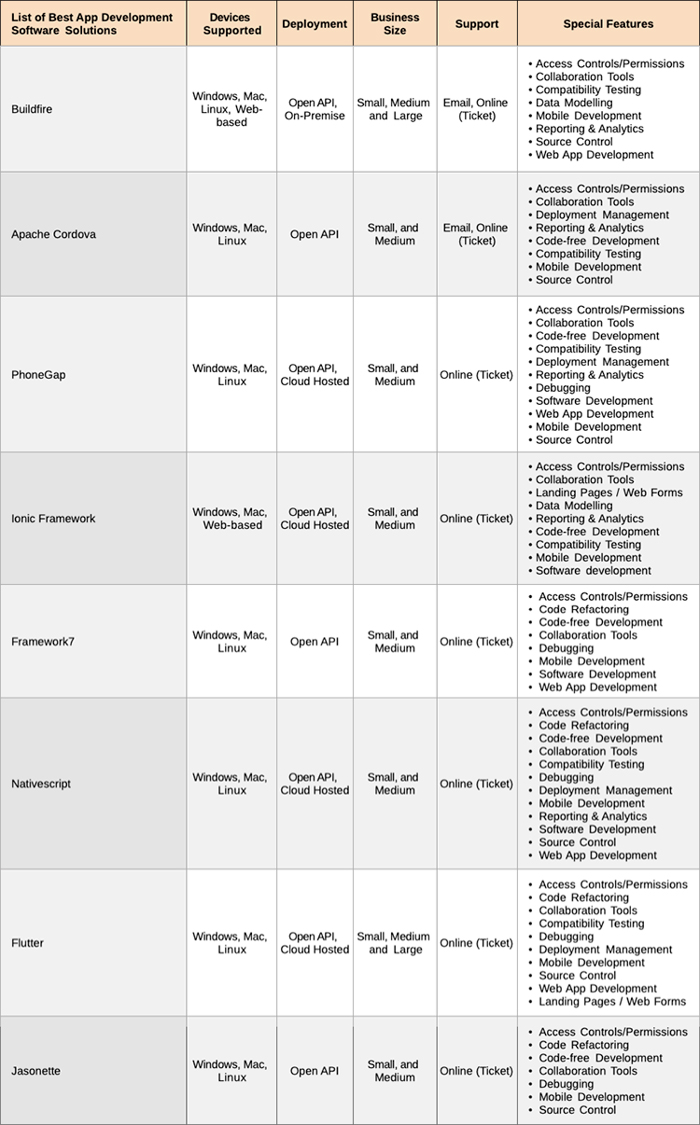 Now, let us check out the top class free and open source app development software programs in detail that will help you develop the best quality apps utilizing a variety of app development platforms.
1. Buildfire.js:
Buildfire is a fully customizable, 100% free, simple and intuitive app creator to build Android, iOS and progressive web apps. The software facilitates elegant drag-and-drop UI, and this platform currently supports more than 10,000 apps.
Highlights:
Buildfire is custom app development software for seasoned app makers as well as for beginners.
It facilitates BuildFire Lockdown feature for app security and compliance.
The app restricts user access for selected content.
BuildFire Connect feature provides robust experiences by integrating or extending any element in your app.
The app can be combined with any third party API's or pre-built integrations.
2. Apache Cordova:
Apache Cordova is a renowned mobile application development framework initially created by Nitobi.
The framework is written in C#, C++, CSS, HTML, Java, JavaScript and Objective-C and runs on Android, iOS, Windows 8.1, Phone 8.1 and 10, OS X, Electron (software framework).
Deprecated Platforms: BlackBerry, Firefox OS, Symbian, Ubuntu Touch, WebOS, Windows Phone 7.0 and 8.0 platforms.
The stable version 9.0.0 release date of this software is March 20, 2019. It is available in English language and licensed as per Apache License 2.0.
Highlights:
Apache Cordova facilitates creating mobile apps with HTML, CSS, and JS and targets multiple platforms with one code base.
The software framework can be extended with native plug-ins so that developers can add more functionality to the app.
The command line interface allows the users to create new projects, build them on different platforms and run them on different devices or within the emulators.
A set of Cordova core components is used to create the base of the app so that one can spend sufficient time to implement the task of development.
3. PhoneGap:
The open source cross-platform mobile app development framework – PhoneGap The software is used by many today. It is also a product by Nitobi Software (now Adobe), and its applications are built using JavaScript, HTML, and CSS. It operates on iPhone, Android, and Windows and is licensed as per Apache License, Version 2.0.

Highlights:
The cross-platform app building facility with PhoneGap includes app building performance on iOS, Blackberry, Android, WebOS, Symbian, Tizen, and Bada platforms.
It is a cost-effective software that provides better access to native APIs.
It facilitates robust backend support and suppleness in development.
UI libraries in PhoneGap help in improving the User Interface in the system.
4. Ionic Framework:
As a complete open source SDK for hybrid mobile app development – Ionic was initially released in 2013 by its creators – Max Lynch, Ben Sperry and Adam Bradley of Drifty Co. The stable version 4.3.0 release date of the software is April 17, 2019. It is written in JavaScript and is covered by MIT license.
Highlights:
Ionic is an 'npm' module, and for installation, it requires Node.js.
Ionic apps run with a mix of web code, and native code, and they provide full access to the native functionality with the UI of the app.
Ionic allows Cordova based app building, and deployment with simplified 'Ionic' command line tool.
The software includes interactive paradigms, typography, mobile components, and an extensible base theme.
5. Framework7:
Framework7 is an astonishing HTML framework used for building Android and iOS apps created by Vladimir Kharlampidi.
It is a free and open source framework to develop mobile, desktop and web apps with native look and feel. It works on HTML, CSS, and JavaScript, holds MIT license and its latest version 4.3.1 was released 14 days ago, i.e., on April 30, 2019.

Highlights:
The software provides easy view management and navigation support facility.
The built-in FastClick library helps in handling click delays for touch UI's.
The software provides easy and familiar syntax for the users if they are familiar with JQuery to get started quickly.
It facilitates a built-in layout grid system and customizable themes and color schemes.
The flexible router helps in loading pages from templates and provides hardware accelerated CSS animations and transitions.
6. NativeScript:
NativeScript is one of the best open source frameworks for developing native iOS apps and Android apps with JavaScript, Angular, Vue.js, and TypeScript.
The software provides a complete suite of professional services. Architectural assistance, in-person training, troubleshooting, performance analysis application design, and development are its scope of work.

Highlights:
NativeScript platform is shipped with a rich set of cross-platform tools to build iOS and Android apps rapidly.
NativeScript Theme Builder visually customizes the built-in themes.
The software supports a robust CSS based styling system.
The software makes users directly access all Native platform APIs from the code.
The software uses native controls, and its applications are usable with screen reader technology.
7. Flutter:
As Google's portable UI kit – Flutter software is used for developing native mobile, web and desktop apps from a single codebase.
It is a free and open source mobile application development framework that is written in C, C++, Dart, and Skia Graphics Engine and operates on Development: Windows, MacOS and Linux, Target: Android, iOS and Google Fuchsia platforms. The stable version Flutter 1.5.4 release date of the software is May 7, 2019.
Highlights:
Flutter software performance facilitates the fast development of native apps with fully-customizable widgets.
It promotes native end-user experiences with incredibly fast rendering expressive and flexible designs.
The widgets of the software system incorporate all critical platform differences such as icons, scrolling, navigation and fonts to provide ideal native performance.
Dart platform, Flutter engine, foundation library, and design-specific widgets are significant components of this software system
8. Jasonette:
Jasonette is a high-level programming platform that uses JSON based markup to develop iOS and Android apps. It is created by a New York-based developer, Ethan Gliechtenstein in 2014.
It is an open source markup-based approach for developing cross-platform native apps. It is licensed as per MIT licensing.
Highlights:
Jasonette software works like a web-browser with having precisely the same code but can deliver different types of apps interpreting HTML markup into web pages.
Users need JSON to get a 100% portable framework to use for building apps.
It is 100% extensible and can be integrated seamlessly with your existing native code.
It makes it easier to make live changes over the live native app within minutes only.
We have also included one popular category of Mobile application development platform-APPY PIE. It has been taken owing to its robust functionality and great features. Let us discuss this mobile application development software in detail:
Appy Pie
is an easy application for someone who wants to create a basic business app. This great resource helps you design your own application without the need of having programming skills. The makers have used the questionnaire method to understand your needs, and it features a lot of pre-built templates that allow customization. It has a cloud-hosted platform.

Features:
All basic features to build the mobile application are available.
AI-powered no-code business app builder.
No technical expertise is required for building apps through Appy Pie.
Users build customized apps by using Appy Pie's drag and drop feature.
Photo Gallery integration from Pinterest, Flickr, Instagram
Users can create Mobile Web/ HTML5, and Hybrid apps (iOS, Android, Windows, and Blackberry).
GPS location tracking can be added.
Integration with Face book, LinkedIn, Twitter, & YouTube
Takes less than 10 minutes to build an app for your business using the in-built templates
Push Notifications
Event Calendar feature
Compatibility testing
Can be integrated with Google analytics for more real-time app statistics.
Alpha Anywhere, Jira, Meteor, Webix JS Framework, Zoho Creator, VisionX, AppMachine, and MobiRoller are some other robust app development software programs available in the market.
If you are already using one from the software solutions listed above, you can freely share your reviews here.
Conclusion:
The impact of IoT and its broad reach has become the driving force behind the growth of mobile apps. Instead of downloading apps, the concept of Instant Apps is emerging today as a revolutionary measure in the field of app development.
The low-code approach will be in immense prevalence in the coming era of app development software programs.
Due to the demand for quality apps consistently, almost all apps undergo constant revisions and optimization. App development is growing big and so are the app development software solutions. So, go ahead and pick the one that suits your needs.
SOURCE: GoodFirms